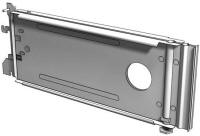 Spring Locking Base Bracket. Available in 13″, 16″, 19″,22″, 25″, 28″ & 31″Depths. Base height: "06″ or "LB" Low Base. 2″ conduit hole for greater electrical access. Included Leveling Legs for uneven flooring. Install straight in using integral spring latch
Also known as a Base Shoe. The Base Shoe clips into the Gondola Upright firmly. The connection between the base bracket and the upright is what provides all of the strength of the Lozier Gondola.
It does not matter what color the Lozier Base Bracket arrives in as when the Lozier Gondola is completely assembled the Base Bracket is not visible.