1. Variety of Canopy options available.
2. Wall sections available in 2', 3' and 4' widths
3. Heights available: starting at 36" high to 96" high and up to 120" high by special order
4. Large selection of upper shelves and accessories available.
5. Base shelves available starting 13" deep, 16" deep, 19" deep, 28" deep, and a 31" depth.
What is a Wall Section and a Wall End?
If you will notice via the illustrations below the Wall Section includes everything except the second Wall End as only one Wall End is needed per Wall Section when creating a multi section Gondola Aisle. To complete the Wall Aisle a Wall End is Necessary.
To create a Wall Aisle as pictured in the images on the top of this page you will use the Wall Section pieces below to configure your aisle length as the sections are available in either 3 or 4 foot sections and your will need an end to complete your aisle of Wall Aisle.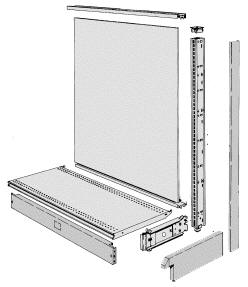 A Wall Section includes 1 base shelf, 1 basic upright, 1 upright cover, 1 base shoe, 1 hardboard back, 1 front kick plate, 1 side base shoe cover, 1 upper spanner, 1 center spanner, and 1 lower spanner.
A Wall End is used to complete a Lozier Wall Aisle. For example a 16' Wall Aisle will consist of 4 Wall Sections and 1 Wall End to complete the Aisle.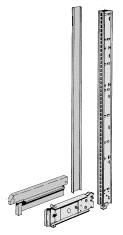 A Wall End includes 1 basic upright, 1 base shoes, 1 base shoe cover, and 1 upright cover.
Lozier Wall Shelving is a great store fixture designed especially to display all types of merchandise for all types of stores such as: Hardware Store, Clothing Store, Beauty Supply Store, Convenience Store, Retail Store, Grocery Store, Pet Store, Toy Store, and more.
Lozier Wall Sections may also be used as end caps in a double back configuration.